Kaida Haru, Hakase Fuyuki, Hoshikawa Sara, Shu Yamino costumes available
---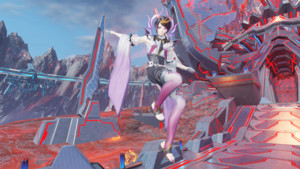 Sega's Phantasy Star Online 2: New Genesis game launched a crossover with the Virtual YouTuber agency NIJISANJI on Wednesday. Kaida Haru, Hakase Fuyuki, and Hoshikawa Sara of the Japanese branch and Shu Yamino of the English branch are joining the game via obtainable costumes and other in-game appearances.
Central City will feature life-size cutouts of the four VTubers. The Region Mag landmarks will feature the NIJISANJI logo along with art panels of the VTubers. In addition, the in-game monitor will play music videos for Kaida Haru's "Toumeina Shinzouga Naiteita" and Hakase Fuyuki's "Little Humming" songs.
Outfits, hairstyles, accessories, voice tickets, and other NIJISANJI cosmetics can be obtained with AC Scratch V Liver Style Tickets. Note that the AC Scratch Ticket operates under a gacha/lootbox system and players are not guaranteed to obtain specific items of their choosing.
Players can also complete specific Tasks to receive a Music Disc of songs. During the collaboration, there will be a limited-time Login Bonus and boost campaign. Players can collect autograph stickers and logos each day they log in.
The collaboration will run until February 28 PST.
The Phantasy Star Online 2: New Genesis open-field online role-playing game features an upgraded graphics engine and game system to Phantasy Star Online. The game also has a new story, battle system, and character creation system.
The game first launched in English in June 2021 for Xbox One and PC via Steam, the Epic Games Store, and Microsoft Store in the West; and for PlayStation 4, PC, and Switch (cloud version) in Japan. The global version later launched on PlayStation 4 in August 2022. The global version includes fully localized text and character voices in English and will remain content current with the Japanese servers.
The NIJISANJI project launched in 2018 and is run by ANYCOLOR, Inc. (formerly Ichikara Inc.). It is one of Japan's largest Virtual YouTuber projects, hosting over a hundred VTubers. As of May 2021, the project has expanded to three Asian countries (China/Indonesia/Korea) in their local languages as well as English.
Sources: Press Release, Phantasy Star Online 2: New Genesis website
---