Channel streams episode of anime daily at 5:30 p.m. IST
---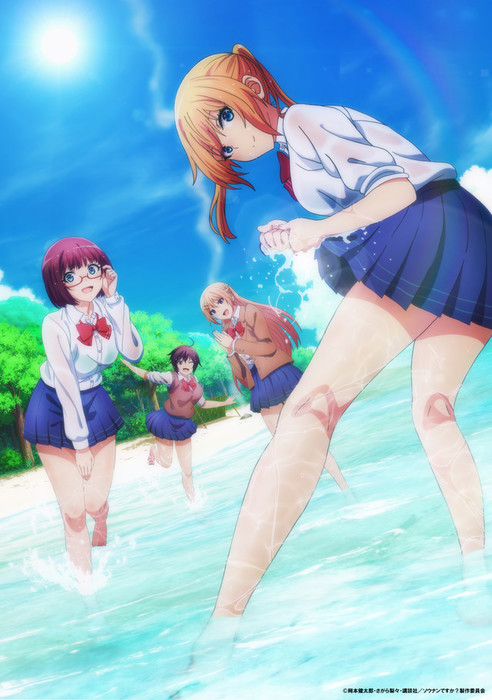 Ani-One Asia began streaming the television anime of Kentarō Okamoto and Riri Sagara's Are You Lost? (Sōnan desu ka?) manga on Wednesday. The YouTube channel will stream an episode of the anime daily at 5:30 p.m. IST.
The anime is streaming in Bangladesh, Bhutan, Brunei, Cambodia, Hong Kong, India, Indonesia, Kazakhstan, Kyrgyzstan, Laos, Macau, Malaysia, the Maldives, Mongolia, Myanmar, Nepal, Pakistan, the Philippines, Singapore, Sri Lanka, Taiwan, Thailand, Timor-Leste, and Vietnam.
The anime premiered in Japan in July 2019. 
Ani-One describes its story:
After a school trip goes terribly wrong, four high school girls are left stranded on a deserted island. While most of them are frightened and desperate, Homare seems strangely calm. Fortunately for the group, this isn't the first time she has been stranded! Homare shamelessly guides her classmates through the finer points of survival, and the girls start to realize that being stranded might not be as bad as they had imagined.
Nobuyoshi Nagayama (My Girlfriend is Shobitch, Happy Sugar Life) directed the anime at Ezo'la (Happy Sugar Life). Touko Machida (Lucky Star, The [email protected], Happy Sugar Life) was in charge of series composition. Junnosuke Nishio designed the characters, and Akiyuki Tateyama (Kemono Friends, Gakuen Basara: Samurai High School, Laid-Back Camp) composed the music.
Okamoto and Sagara launched the manga in Kodansha's Young Magazine in January 2017, and ended the series in March 2022. Kodansha USA Publishing began releasing the manga in English digitally in October 2018.
---