Takatsu's new manga launches on March 17, Katō's new manga starts on April 21
---
This year's fourth issue of Square Enix's Young Gangan magazine revealed on Friday that Karino Takatsu will launch a new manga titled Marry-Go-Round in the magazine's seventh issue on March 17. The "marriage battle comedy" manga will take place in a "marriage share house," and will center on a protagonist who knows nothing about love and is also hopeless when it comes to love.
Takatsu began her Working!! manga (pictured at right) in Square Enix's Shonen Gangan magazine in 2005, and ended it in 2014 with 13 volumes.
The manga inspired three television anime seasons and a spinoff anime. Crunchyroll streamed all three series as they aired in Japan, and NIS America licensed and released the first two seasons in North America under the title Wagnaria!!. Aniplex of America released the third season and the WWW.WAGNARIA!! spinoff anime on home video.
Yen Press has released Takatsu's Servant × Service and My Monster Girl's Too Cool for You manga in English. Servant × Service inspired a television anime in 2013.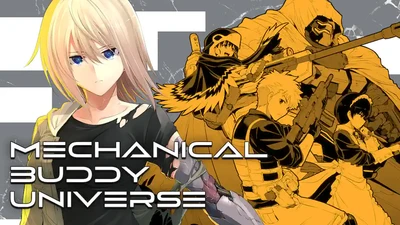 Additionally, the same Young Gangan issue revealed that Takuji Katō will launch a new manga titled Mechanical Buddy Universe 1.0 in the magazine's ninth issue on April 21. The manga is a new arc for Katō's one-volume Mechanical Buddy Universe manga (pictured at left), which Square Enix's Global Manga UP! service is releasing in English. The manga tells a story of an android who long ago fulfilled its original mission and an abandoned child who form a family.
Katō launched the manga adaptation of Hisago Amazake-no's Knight's & Magic light novel series in Young Gangan in April 2016, and ended the manga's "first part" in March 2022. Katō's author comments at the time indicated that the manga overall would end. Crunchyroll is releasing the manga in English.
An anime adaptation of the novels premiered in July 2017. Crunchyroll streamed the anime adaptation as it aired in Japan.

Source: Young Gangan issue 4
---