Kinnikuman
Yojigen Sappо̄ Satsujin Jiken launches on March 17
---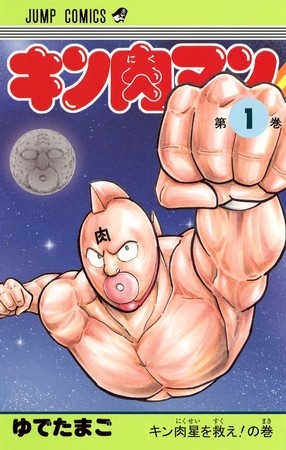 Shueisha's Jump J-Books website is listing a new novel for the Kinnikuman series titled Kinnikuman Yojigen Sappо̄ Satsujin Jiken (Kinnikuman 4D Killer Murder Case), scheduled for release on March 17. Oginuma X is writing the novel, and original series creator Yudetamago is supervising.
The mystery novel features the disappearance of Kinnikuman. Meat-kun, along with Kinkotsuman, search for him. As they search, they encounter murders committed by superhumans. Together, they look not only for Kinnikuman but also the culprits.
The manga creator duo known as Yudetamago resumed their original Kinnikuman wrestling manga as a free web manga in 2011. The creators went back to their first 1979 Kinnikuman storyline and continued where they last left the story in 1987. The original manga has inspired various television anime series and films. Yudetamago previously published a Kinnikuman one-shot manga in Shueisha's Grand Jump magazine in 2015, and then published a one-shot in Weekly Shonen Jump for the first time in 11 years in June 2019. The manga's 80th compiled book volume shipped in Japan on November 4. The 81st volume will ship on March 17.
Toy figures of Kinnikuman were imported into the United States under the "M.U.S.C.L.E" brand name in the 1980s. Viz Media then released Takashi Shimada and Yoshinori Nakai's Kinnikuman Nisei – Second Generations manga sequel in North America as Ultimate Muscle: The Kinnikuman Legacy, and 4Kids Entertainment broadcast the anime adaptation on television.
Source: Jump J Books
---