Takahama plans to launch Shishi to Botan manga in mid-March
---
Manga author Kan Takahama announced on her Ameba blog last Thursday that she started working on a new manga titled Shishi to Botan (The Lion and the Moutan Peony). Takahama said the new manga is scheduled for about 10 volumes, which according to her will probably take seven to 10 years to finish. Takahama added that it took her a few years to create the new manga's characters and settings, but after that, working on the composition was fast and she was able to roughly complete the first half in one day. If things go well, Takahama said the manga will probably start in mid-March.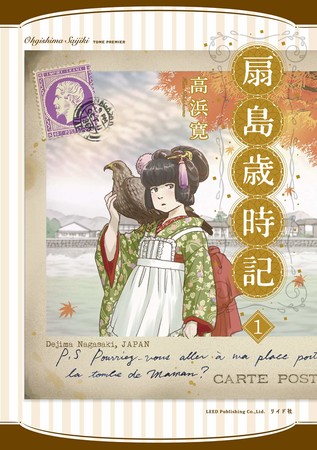 Takahama launched the О̄gishima Saijiki (О̄gishima Seasonal Words List) manga (pictured right) in LEED Publishing's Monthly Comic Ran magazine in November 2019, and the series ended in June 2022. The manga is the third and final work in Takahama's "Nagasaki Trilogy," which also includes Nyx no Lantern and Chō no Michiyuki.
Takahama launched the Nyx no Lantern (Nyx's Lantern) manga in Monthly Comic Ran in March 2015, and ended it in June 2019. LEED Publishing released the manga's sixth and final compiled volume in August 2019. The manga won an Excellence Award at the 21st Japan Media Arts Festival Awards in 2018.
Fanfare and Ponent Mon have published several of Takahama's manga in English including Monokuro Kinderbook, Mariko Parade, and Awabi.

Source: Kan Takahama's Ameba blog
---