Film earns equivalent of US$2.28 million over weekend, crossing US$19.3 million total
---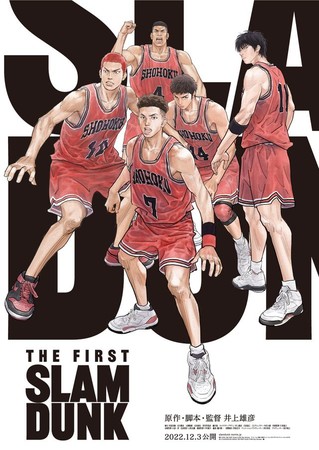 The First Slam Dunk, the new anime film of Takehiko Inoue's Slam Dunk basketball manga, ranked #1 in its fifth weekend in South Korea earning an equivalent of US$2,280,244 from Friday to Sunday. The film sold 276,453 tickets and played on 1,013 screens.
The film's week-on-week revenue increased by 10%. The film has earned a total of US$19,309,822 in South Korea, selling 2,348,330 tickets.
The film opened in South Korea on January 4. In its fourth weekend, the film ranked #1, ahead of Avatar: The Way of Water.
The film opened in Japan on December 3, and ranked at #1 in its opening weekend. The film sold 847,000 tickets and earned 1,295,808,780 yen (about US$9.50 million) over its opening weekend. The film is currently the 43rd highest-earning film of all time in Japan.
Inoue personally directed the film at Toei Animation and wrote the script. Among the listed staff members are character designer/animation director Yasuyuki Ebara (Kabaneri of the Iron Fortress) and technical directors Katsuhiko Kitada (Attack on Titan episodes, Major: Yūjō no Winning Shot), Naoki Miyahara (Digimon Adventure, Popin Q), Toshio Ōhashi (LayereD Stories 0), and Yū Kamatani (Looking for Magical DoReMi, Precure Super Stars!).
Daiki Nakazawa directed the CG, and Yūta Ogura produced the CG. Kazuo Ogura directed the art. Yota Tsuruoka directed the sound with Koji Kasamatsu.
The Japan Academy Film Prize Association for excellence in film nominated the film for Animation of the Year in its 46th annual awards.
---