---
The official Twitter account for The Aristocrat's Otherworldly Adventure: Serving Gods Who Go Too Far, the television anime of Yashu's Chronicles of an Aristocrat Reborn in Another World (Tensei Kizoku no Isekai Bōken Roku) light novels, revealed three new cast members for the anime on Tuesday.

Saori Ōnishi as Milly
TVアニメ『#転生貴族の異世界冒険録』
👑新キャラ&CV発表!👑

【ミリィ】
CV: #大西沙織
剣術を得意とするカインの家庭教師。

↓ #転生貴族 公式HPはこちら↓https://t.co/kafcNVPYM5 pic.twitter.com/IfgQmDTP8s

— 転生貴族の異世界冒険録【公式】 (@tenseikizoku) February 7, 2023

Hibiku Yamamura as Nina
TVアニメ『#転生貴族の異世界冒険録』
👑新キャラ&CV発表!👑

【ニーナ】
CV: #山村響
魔術を得意とするカインの家庭教師。

↓ #転生貴族 公式HPはこちら↓https://t.co/kafcNVQwBD pic.twitter.com/OaTrJ0c8Z4

— 転生貴族の異世界冒険録【公式】 (@tenseikizoku) February 7, 2023

Sora Tokui as Tifana
TVアニメ『#転生貴族の異世界冒険録』
👑新キャラ&CV発表!👑

【ティファーナ】
CV: #徳井青空
エスフォート王国のエルフ騎士団長。主人公・カインの新たな婚約者。

↓ #転生貴族 公式HPはこちら↓https://t.co/kafcNVPYM5 pic.twitter.com/ifv0i31agf

— 転生貴族の異世界冒険録【公式】 (@tenseikizoku) February 7, 2023
The anime will premiere in April, and Crunchyroll will stream the series.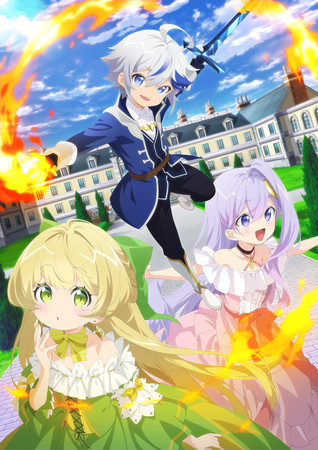 The previously announced cast includes: (character name romanizations not confirmed)
Noriyuki Nakamura (Zumomo to Nupepe, Shoot! Goal to the Future) is directing the anime at EMT Squared and Magic Bus. Ayumu Hatori is a producer on the anime. Mo and nini are credited for the original character designs. Natsuko Takahashi (Tokyo Magnitude 8.0, Farewell, My Dear Cramer) is in charge of the series scripts. Eri Tokugawa (Ameiro Cocoa Series Ame-con!!) is designing the characters. MICHIRU (Ascendance of a Bookworm) is composing the music, and Ryousuke Naya is the sound director. 7LAND performs the ending theme song "Nanairo no E no Gu de" (With Seven Colors of Paint).
Seven Seas Entertainment is releasing nini's manga adaptation of the novels, and it describes the story:
After dying in the act of stopping a crime in modern Japan, our hero is reincarnated as Cain von Silford, third son of a noble family in a world of swords and sorcery. In his new life, all children receive a blessing from the gods…but Cain is unexpectedly blessed with an absolutely enormous, over-the-top cornucopia of magical powers. If his dream of traveling the world as a free spirit is to come true, he can't reveal too much of his potential to the wrong people. A light-hearted, escapist adventure in another world begins!
Yashu began serializing the story on the Shōsetsuka ni Narō website in October 2016. Hifumi Shobo began publishing the novels in print with illustrations by Mo in June 2017. The artist nini launched the novels' manga adaptation on Mag Garden's Mag Comi website in March 2018.
Source: Chronicles of an Aristocrat Reborn in Another World anime's Twitter account (link 2, link 3)
---