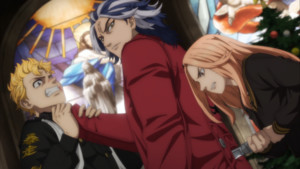 There's a common screenwriting trick that, once you notice it, is impossible to ignore whenever it pops up. Basically, whenever the characters in a story lay out a plan before you actually see them putting it into action, it's guaranteed that said plan will either fail or go off the rails eventually. So it was obvious that the Season's Beatings team was not going to easily succeed in stopping Taiju's murder. Still, I don't think I could have predicted just how sideways this relatively simple plan would go so quickly.
I did predict Kisaki's sudden yet inevitable betrayal, but that's like predicting the sun setting or Takemichi getting his ass kicked; nobody should be impressed. The question was never if Kisaki was going screw over our heroes, but rather how and why. As it turns out, the answer to both is disappointingly similar to his previous scheme: get somebody to commit a murder, then blackmail that person into subservience and get a valuable pawn without risking his own skin. While I guess it makes sense that he'd recycle his plan from Bloody Halloween, it's a little deflating that, after we started getting more from Kisaki's character, we're going to just settle back on the same plan. I'm hoping there's either more to this whole thing, or that we get some actual conflict with Kisaki after this battle with Taiju is over. The longer Kisaki's can gets kicked down the road, the greater it strains the credulity of our driving mystery.
Thankfully, Taiju himself makes for a very fun in-the-moment villain. The moment where he walks into the church, reciting The Lord's Prayer so the almighty will grant him the strength to beat the life out of these teenagers intruding on his chapel, is so wonderfully cheesy it made the whole episode for me. I almost wish he'd gone whole hog as the catholic delinquent; calling his punches the laying on of hands, and promising to baptize these sinners in blood. It would only be marginally more ridiculous than what actually happens, considering he picks up and throws an entire pew at one point, and it would give this musclebound maniac some extra flavor to stand out from Tokyo Revengers's other villains. Hell, you could really go for it and have Yuzuha stab him where the Lance of Longinus struck Jesus and turn this whole brawl into Capital-A Art.
Speaking of Yuzuha, I'm glad she's involved in all this too. TR has pretty much always relegated its few female characters to sitting in the background while the boys beat each other into tar, and I had largely resigned myself to the same being true of Yuzuha. Turns out I was underestimating her almost as much as Taiju, and I cheered just a little when she showed up with her knife in hand. Granted, that's actually the worst thing she could have done for everyone involved, but it means she's going to be part of the violent resolution of their twisted family dynamic, rather than being a prop for brothers' conflict. Her presence also spirals the whole fight into chaos immediately, ramping up the tension considerably, before we get into whatever dark secret Taiju was about to reveal.
That said, I'm a little wary of just how much time we have left in this season. After the Bloody Halloween fight stretched its pacing to the breaking point for episodes on end, I'm pretty nervous about having half a dozen episodes left when the apparent climactic fight has already started. The past few episodes have made great strides in maintaining both an engaging pace and compelling drama, and I'd hate to see it fall back into the doldrums from before. So I suppose for now I'll be praying to my own powers that be for Tokyo Revenger to keep it up.
Rating:





Tokyo Revengers: Christmas Showdown is currently streaming on
Hulu.