Tomboy Tomo couldn't have picked a more awkward high school crush 'cause it's on her childhood friend, Junichiro, but he only sees her as one of the guys. Despite her pretty looks and signals, nothing gets through to this meathead! Will Junichiro ever realize Tomo's into him and see her for the cutesy girl she actually is?!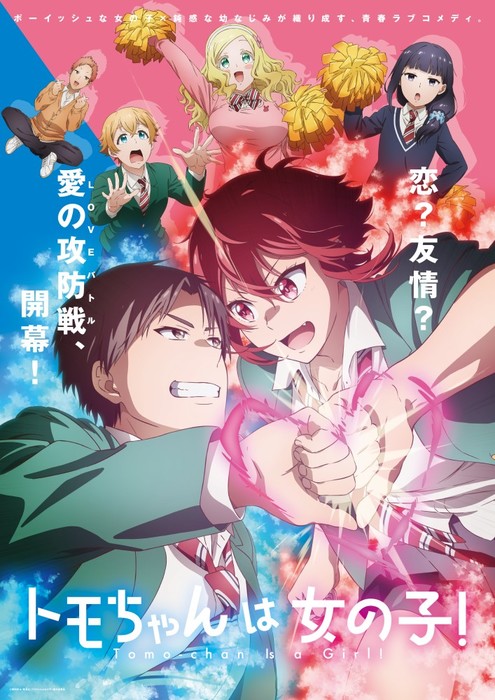 ANN is giving away one Tomo-chan Is a Girl! print each to five lucky winners! Below is the sample of the print signed by Hitoshi Nanba, the anime director of this romantic anime series.
Want to keep yourself updated? Here are Tomo-chan Is a Girl!'s official English language official channels:
Facebook: https://www.facebook.com/tomochan.en
Instagram: https://www.instagram.com/tomochan_en/
Twitter: https://twitter.com/tomochan_en
The giveaway event ends on February 23, Thursday, 23:59 EST , and is only available to US residents only. Good luck!
Name:

E-mail address:

Complete mailing address (where to send the prize):


Entries with incomplete mailing addresses will be disqualified.
No PO Boxes (Military PO Boxes (APO/AFO/CFPO are acceptable).
Double-check your answers and then:

The Fine Print: Although unlikely to happen, Anime News Network reserves the right to cancel this contest at any time. Contest is open to any and all residents of the planet Earth and neighbour parallel dimensions, but prizes will only be shipped within the continental United States and Canada (elsewhere, you have to arrange to have it sent to someone living in the appropriate area, and they can send it to you.) Winners' names and city/state/province
will be posted
on AnimeNewsNetwork.com, their mailing addresses will be provided to our sponsor and/or shipping agent of choice (ex: USPS), and no one else. Winners' addresses and e-mail addresses will be erased once the prizes have been shipped. Non-winners' names, e-mail and mailing addresses will not be given out to any one and will be erased when the winners have been confirmed. Non-winners will not be contacted, spammed or harassed in any way. We reserve the right to retroactively add new rules when and how we see fit.