Crunchyroll revealed on Friday that David Matranga will play Nicholas D. Wolfwood in the English dub of the Trigun Stampede anime. He will appear in the upcoming dubbed episode on Saturday.
Johnny Yong Bosch returned from the original 1998 Trigun anime to reprise his role as the main character Vash the Stampede.
The cast includes:
Additional voices include Jason Crawford Jordan, Van Barr Jr., Dusty Feeney, Marianne Bray, Nicholas Markgraf, Nazeeh Tarsha, Matthew David Rudd, Brian Holder, Kristian Eros, and Joe Cucinotti.
Jeremy Inman is directing the English dub with assistant director Dallas Reid. Paul Cline is the lead ADR engineer with assistant Kim Morton. Macy Anne Johnson is writing the script, and Tyler Walker is supervising. John Van Doren is in charge of ADR prep.
The dub debuted on January 21, and new episodes stream on Saturdays.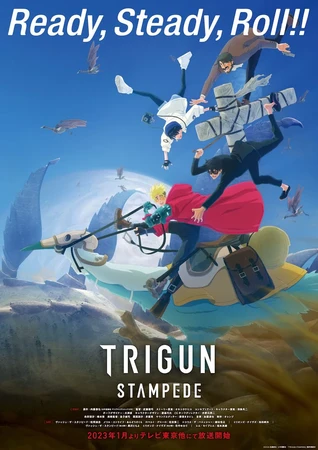 The series premiered in Japan on January 7. Crunchyroll began streaming the series on January 7 worldwide excluding Asia, but including the Philippines, Singapore, India, Pakistan, Bhutan, Sri Lanka, Bangladesh, Nepal, Kazakhstan, and Kyrgyzstan. Hulu is also streaming the series.
The story follows the misadventures of Vash the Stampede, a gunman on the lam with a "60 billion double dollar" bounty on his head. Vash earned his "Stampede" nickname thanks to the destruction that zealous bounty hunters wreak on any town he visits.
Kenji Mutou (Cavity Express director, BEASTARS storyboarder, Land of the Lustrous episode director) is directing the anime at Orange. Kouji Tajima is the concept designer and is credited with the character concept. Takehiko Oxi is credited with the story draft, and Tatsurō Inamoto, Shin Okashima, and Yoshihisa Ueda are writing the srcripts and are in charge of composition. Nao Ootsu is the chief designer, and character designers include Kōdai Watanabe, Tetsurō Moronuki, Takahiko Abiru, Akiko Satō, Soji Ninomiya, and Yumihiko Amano. Tatsuya Katō (Free!, Fate/kaleid liner Prisma Illya franchises) is composing the music. The rapper and singer-songwriter Kvi Baba performs the opening theme song "TOMBI," and singer Salyu and composer Haruka Nakamura contribute the ending theme song "Hoshi no Kuzu α."
Source: Crunchyroll (Liam Dempsey)