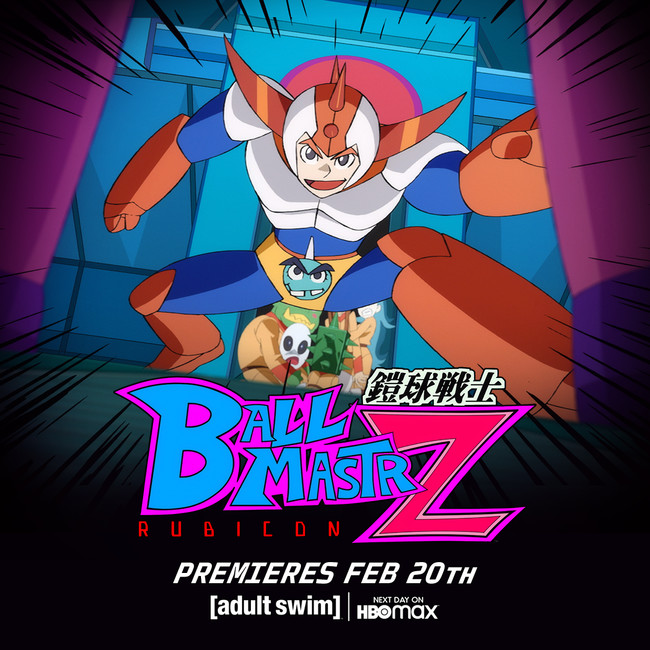 Ballmastrz: 9009 and Superjail! creator Christy Karacas is no stranger to Japanese animation, and it's through a series of fortunate events that his show is getting the anime treatment. The Ballmastrz: Rubicon special will follow his series' second season, and feature eclectic animation by STUDIO4℃ (Mind Game, Poupelle of Chimney Town, Berserk: The Golden Age Arc) helmed in part by Akira alumnus Takashi Nakamura.
Karacas's love of anime dates back to early mornings as a young child watching Battle of the Planets and its sequel, G-Force: Guardians of Space. Like many early anime fans, Karacas didn't know his favorite cartoons were anime, just that they seemed "cooler and better" than the cartoons of the time, and he was fascinated by how they were drawn. His early days watching Battle of the Planets prepped him for giant robot fandom with popular mainstays like Robotech and Voltron, and eventually, manga.
"Around junior high, I was really into comics. I'd go to the comic store, and that's when I discovered Miyazaki and Katsuhiro Otomo. I was reading what Viz was putting out, like Justy and Mai the Psychic Girl. I was like, 'Why are these so different from the American comics?' It's funny. I used to go to this comic shop. It was an hour away. I'm surprised my mom would let us go. We'd go there, and I would buy bootlegs off laser disks, and it'd be VHS with no subtitles, but then there'd be fanzines with the outlines. I'd get stuff like Gundam and Patlabor that way. It was just exciting. It was almost like collecting records."
Karacas started focusing on his animation career in college but didn't feel his art could recreate the quality he saw in his favorite anime. He took his style in the direction viewers eventually saw in Superjail!. After four seasons, former Adult Swim head Mike Lazzo approached Karacas to pitch a new show. Karacas went back to his anime inspiration for Ballmastrz: 9009, newly invigorated after seeing Studio Trigger's Kill la Kill and the first season of One-Punch Man.
"I hadn't watched new anime in a while. Stuff like One-Punch Man, these shows are totally crazy. They're amazing. I thought I might try to make an anime, but I can't do it. Then I thought, 'Well, there's not really a sports show.' I was really into wrestling, and I love stuff like Rollerball and dystopian, B-movie stuff. So I went with a mix of wrestling, B-movie, and sports anime. That's what it turned into because, again, at that time, Kill la Kill, Ping Pong, and One-Punch Man were really exciting. When they came out, they were kind of shocking."
Ballmastrz: 9009 takes place in a post-apocalyptic world where a godlike being named Crayzar oversees a deadly roller-derby competition. The show features different teams with cues from popular anime to form a mixing pot of pop-culture references. The chaos of the stew is part of the flavor and a fun way for the staff, many anime fans themselves, to work in their favorites, like JoJo's Bizarre Adventure. Voice actor Stephanie Sheh plays Luna in the series, the leader of the Sailor Moon-inspired group, the Ashigari Princesses. Karacas credits voice actor Eric Bauza for recommending Sheh for the role.
STUDIO4℃ is handling the animation for the Ballmastrz: Rubicon special. The studio is likely best known to Western audiences for animating the Berserk: The Golden Age Arc and the award-winning Children of the Sea film. The studio has a history of collaborating on American-produced animation, including The Amazing World of Gumball, Thundercats, The Animatrix, Batman: Gotham Knight, and Halo Legends, but Karacas was excited to work with the studio due to its work on Masaaki Yuasa's Mind Game.
"When this happened, I was like, 'Are you kidding me? They're not going to do it.' But I was shocked. I mean, it was like a dream. It really was," Karacas said.
The ball got rolling after Karacas spoke with Custom Nuts co-founder Silas Hickey at an animation festival. A native of Australia, Hickey lives in Japan and worked with Cartoon Network Asia.
"He had connections to these studios, and when I was talking to him, I said, 'Man, I wish I could do this at a real anime studio.' And he's like, 'Why? I know these places. I could try.' He basically hooked it up, and it worked out."
Karacas quickly found out that animation studios in Japan are heavily backed up with project assignments. It just so happened that amid COVID, STUDIO4℃ had a slot open, and Takashi Nakamura was available.
"It was crazy because, again, they were like, 'Hey, do you want to work with this guy?' I go, "From Akira?" They were like, "Oh, you know that?" I'm a nerd. I like this stuff. I couldn't believe it."
A character redesign was always in the cards for the special, but Karacas had suggestions to match the space setting when the project got rolling.
"More like Macross or a Gunbuster kind of thing," he said. Nakamura suggested the retro look that ultimately became the special's unique design. "He did the new designs, and I think these look awesome. It was very organic and pretty effortless.  The only crappy thing was during COVID, and I wish I could have gone [to the studio in Japan]." 
As for Karacas' current favorites? He's with the rest of us.
"Chainsaw Man. I picked up the comic and I'm pretty excited about it." He also recommends Gundam: The Origin, Mobile Suit Gundam Thunderbolt, and DEVILMAN crybaby.
Ballmastrz: Rubicon will premiere on Adult Swim on February 20 at midnight (effectively, February 21). It will stream on HBO Max and digital retailers on February 21.

A new battle awaits in Ballmastrz: Rubicon! Creator Christy Karacas (Superjail!) returns to the post-apocalyptic world of the Ballmastrz for a high-octane adventure. Joining Karacas is original Ballmastrz: 9009 voice cast Natasha Lyonne (Russian Doll), Dana Snyder (Aqua Teen Hunger Force), Dave Willis (Aqua Teen Hunger Force), Eric Bauza (Looney Tunes Cartoons), and Jessica DiCicco (Adventure Time).