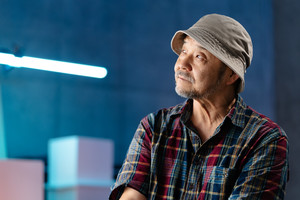 The on-demand video course service Narō launched a video course with the acclaimed director Mamoru Oshii (Ghost in the Shell, Angel's Egg, Jin-Roh – The Wolf Brigade, Blood: The Last Vampire, The Fire Hunter) on Thursday. The 5+ hour course consists of 20 videos detailing Oshii's "creative formulas, development methods, and tales from his life as a director in the pop culture industry." The course costs US$75 and is available with English subtitles.
Oshii commented about the course as follows:
In theory, at least, an anime director's job is to make films. But arriving at work, what's on the proverbial desk to work with? There's nothing to serve as a base, no background or landscape, no actor to inhabit a character. The tool kit consists entirely of words and whatever images they can conjure up.

That is why I'm so fastidious in how I communicate a film story: an animation director's destiny is to forever rely on language as the sole basis for filmmaking.

What convinced me of this truth about the vitality of film-telling as a crucial part of directing is that in actuality, there is no other basis for creating film at all. Film-telling is what makes a film possible, and a film finds completion only by being told. And it may be an obvious point, but telling the story of a film requires a listener.

The tough reality is that animation production staff – particularly the animators – typically hate talking about story. Moreover (and this I find surprising), film audiences also seem to only enjoy talking about film in everyday terms.

In my case, it's not only that I desire viewers to watch my work, but that I desire viewers who talk about my work. No matter where you are in the world, I have faith that these words about my films will find these people.

Because, as someone once said, the net is vast and infinite…
Oshii is known for writing and directing numerous animated films, original video anime (OVA), television anime series, and live-action films. His early career included directing the first original video anime, Dallos. He also directed Urusei Yatsura 2: Beautiful Dreamer, Angel's Egg, and several Patlabor projects. The 1995 science fiction animated feature Ghost in the Shell led him to international critical and commercial success. After the success of Ghost in the Shell, Oshii was involved in various projects such as Jin-Roh – The Wolf Brigade, Blood: The Last Vampire, and The Sky Crawlers. His Vladlove anime formally debuted in February 2021.
Narō also features courses with 2 Michelin-starred chef Shuji Niitome, sumo wrestler KONISHIKI, renowned ramen creator Tomoharu Shono, chef Zaiyu Hasegawa, and kimono designer and stylist Nobuaki Tomita. The platform plans to release a future course with Ultraman series director Takeshi Yagi on tokusatsu filmmaking.
Sources: Narō, Press Release