Anime's 8th episode starts 3rd, "final" act
---
The official website for the Trigun Stampede anime revealed two more cast members on Saturday for characters who will debut in the eighth episode. The cast includes Junichi Suwabe as Brad and Fumiko Orikasa as Ruida. TOHO animation also teases that the eighth episode starts the anime's third and "final" act.
TOHO animation is streaming a preview for the eighth episode, which features the characters.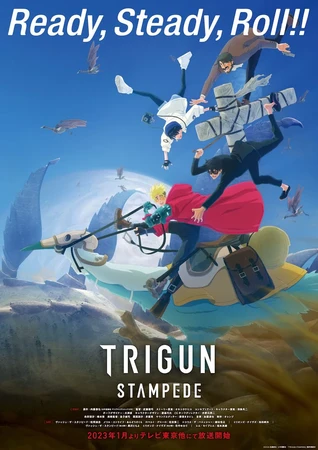 The series premiered in Japan on January 7. Crunchyroll began streaming the series on January 7 worldwide excluding Asia, but including the Philippines, Singapore, India, Pakistan, Bhutan, Sri Lanka, Bangladesh, Nepal, Kazakhstan, and Kyrgyzstan. Hulu is also streaming the series. Crunchyroll is also streaming an English dub.
The story follows the misadventures of Vash the Stampede, a gunman on the lam with a "60 billion double dollar" bounty on his head. Vash earned his "Stampede" nickname thanks to the destruction that zealous bounty hunters wreak on any town he visits.
Kenji Mutou (Cavity Express director, BEASTARS storyboarder, Land of the Lustrous episode director) is directing the anime at Orange. Kouji Tajima is the concept designer and is credited with the character concept. Takehiko Oxi is credited with the story draft, and Tatsurō Inamoto, Shin Okashima, and Yoshihisa Ueda are writing the srcripts and are in charge of composition. Nao Ootsu is the chief designer, and character designers include Kōdai Watanabe, Tetsurō Moronuki, Takahiko Abiru, Akiko Satō, Soji Ninomiya, and Yumihiko Amano. Tatsuya Katō (Free!, Fate/kaleid liner Prisma Illya franchises) is composing the music. The rapper and singer-songwriter Kvi Baba performs the opening theme song "TOMBI," and singer Salyu and composer Haruka Nakamura contribute the ending theme song "Hoshi no Kuzu α."
Sources: Trigun Stampede anime's website, Mainichi Shimbun's Mantan Web
---