Kadokawa is listing that it will release a novel by author Kōhei Azano (Tokyo Ravens) with illustrations by sakusya2 titled Code Geass Arthur on the Misty Streets case file: beginning (Code Geass Kiri Kyō no Arthur case file: beginning). The novel will release on March 1. The novel is an adaptation of one of the stories included in Sunrise's Code Geass: Genesic Re;CODE smartphone game.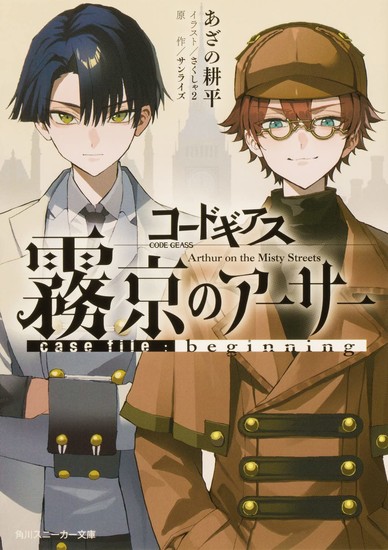 The prequel novel's story is set in London, in the summer of 1887. Two young men, Conan Watson and Arthur Holmes, meet in a corner of London. Watson is a college student from the countryside, and dreams of becoming a doctor. Holmes is a self-proclaimed inventor and an eccentric young man, who is always driven by his curiosity. By a twist of fate, they end up living together. After a certain incident, Watson and Holmes start getting involved in several mysterious incidents in London. In every incident, Watson witnesses how Arthur solves the mystery with his genius deduction.
The Code Geass: Genesic Re;CODE smartphone game launched in October 2021 after several delays. The game announced in January that it will end its service on April 27.
Code Geass anime's Sunrise, Ichiro Okouchi, and Goro Taniguchi are credited with the game's original story, and Okouchi and Taniguchi served as executive supervisors. CLAMP is responsible for the original character designs. Azano, Ao Jūmonji, Bisui Takahashi, and others drafted each arc's story scenarios. JORO developed the game, and the game features animation sequences from Sunrise. The staff bills the game as "the official sequel to the Code Geass franchise."
The original Code Geass television series premiered in 2006, followed by a sequel series in 2008. The series has inspired various manga and original video anime, including the Code Geass: Akito the Exiled spinoff, which premiered in 2012.
Code Geass: Lelouch of the Re;surrection, which is the most recent anime in the franchise, opened in February 2019 in 120 theaters in Japan. Funimation screened the film in North America in May 2019. Producer Kōjirō Taniguchi said in April 2019 that the film is "phase 1" of a 10-year plan for new content in the Code Geass franchise.
Azano launched the Tokyo Ravens light novel series in May 2010 with illustrations by Sumihei. The novels inspired a main manga adaptation and several spinoff manga series. The light novel series also inspired a 24-episode television anime adaptation in 2013.
Sources: Amazon, Kadokawa's website
---
Disclosure: Kadokawa World Entertainment (KWE), a wholly owned subsidiary of Kadokawa Corporation, is the majority owner of Anime News Network, LLC. One or more of the companies mentioned in this article are part of the Kadokawa Group of Companies.
---
Disclosure: Bandai Namco Filmworks Inc. (Sunrise) is a non-controlling, minority shareholder in Anime News Network Inc.