Facility originally slated to close in March 2022, but extended to March 2023, now extended for another year
---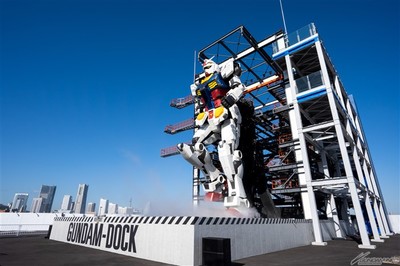 Sunrise's Gundam.info website announced on Monday that the Gundam Factory Yokohama facility — which houses a moving, life-size RX-78-2 Gundam statue — will remain open until March 31, 2024.The staff cited the continued widespread interest to visit the attraction, despite the lingering domestic and overseas travel restrictions due to COVID-19.
The facility was originally slated to close on March 31, 2022 after a limited-time run, but it was already extended once before to March 31, 2023.
The 18-meter-high (59-foot-tall) life-size, moving Gundam held its grand opening for public viewing in December 2020.
Bandai Namco currently has four life-size Gundam statues on display. A life-size "transforming" RX-0 Unicorn Gundam statue from the Mobile Suit Gundam Unicorn anime debuted at Tokyo's Diver City complex in September 2017. Sunrise then unveiled the moving RX-78-2 Gundam statue from the first Mobile Suit Gundam anime in Yokohama in December 2020. The life-size statue of the ZGMF-X10A Freedom Gundam from Mobile Suit Gundam Seed debuted in Shanghai in May 2021. (The Unicorn Gundam statue in Tokyo replaced a previous, mostly immobile RX-78-2 Gundam statue.) The RX-93ffν Gundam, heavily based on Amuro Ray's RX-93 ν Gundam (pronounced "Nu Gundam") that appeared in the Mobile Suit Gundam: Char's Counterattack anime film, debuted in Fukuoka's Mitsui Shopping Park LaLaport in April 2022.
Source: Gundam.info
---
Disclosure: Bandai Namco Filmworks Inc. (Sunrise) is a non-controlling, minority shareholder in Anime News Network Inc.
---