---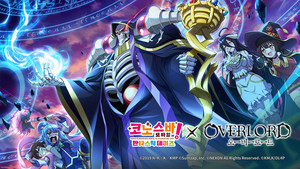 The KONOSUBA and Overlord franchises are no strangers to crossovers, with the two series featuring together in the Isekai Quartet series. So it's only natural that Overlord would eventually come to the KONOSUBA: Fantastic Days smartphone game.
The new crossover event launched in the game's global version on Tuesday, featuring login bonuses, two new stories, character recruits, panel missions, and a new dungeon. The first event story will run from February 21 to March 3, offering a four-star Albedo reward. The second story will run from March 3 to March 13, with a three-Ainz as a completion award. Other Overlord characters are obtainable through the game's gacha system.
In addition, you can receive Ainz's staff and Shaltear's Pipette Lance as login bonuses. Aiz's ring and flag are obtainable by completing panel mission objectives. Other rewards, such as gacha currency and materials, are also given to players at increased rates during the collaboration period.
The game debuted in Japan in February 2020, and its global version launched in August 2021. The game's original story has inspired a novel and manga adaptation.
The game previously held a Re:Zero crossover event in November 2021. At this point, only Saga of Tanya the Evil is missing out to complete the Isekai Quartet set.
Source: Press Release
---